Regular price
Sale price
$219.00USD
Unit price
per
Sale
Sold out
This classic cedar wood watch box has two drawers, and you can make it truly yours with an optional personalized monogram plate. It is perfect for eight watches. Its timeless design ensures it will be a beautiful addition to any dresser for years. You can customize the drawers in the available options.
Bottom lined with your favorite color.
Includes Watch Pillows (8)
Optional Monogram Plate or Glass Engraving
Available in a Glass Top or Wooden Top.
Hard Wax Finish
Solid Cedar Wood
Customizable Drawers
Dimensions: 13" x 10" x 8" 
Features

Dry Klined Solid Wood. We use solid wood that has been adequately dry in an industrial oven.
Box Joints: We join our boxes with this time-proven woodworking technique.
You can choose High-Quality Cristal Clear Glass or Solid Wood Top.
Custom Trim Moulding: We design our boxes to look elegant and match a variety of decorations. This trim could be removed if you wish.
Extra Large Watch Fitting: We don't try to save wood. We make the Box with the proper dimensions to fit extra-large watches. Our boxes are 25% bigger but not more expensive than other manufacturers.
Watch Tray has no sharp edges. We bevel all the wood edges so your watches won't get scratched.
Watch Pillows, perfect fit with no play: Each watch pillow is the ideal size offering precision fit, so once the watches are in the Box, they stay that way.
Delivery Information

This Item is handmade per order, it takes between 10 to 15 business days to ship.
Payment

We use Shopify Payments and Paypal to process all orders. Your order is protected.
Warranty

Easy Returns

Free Shipping
View full details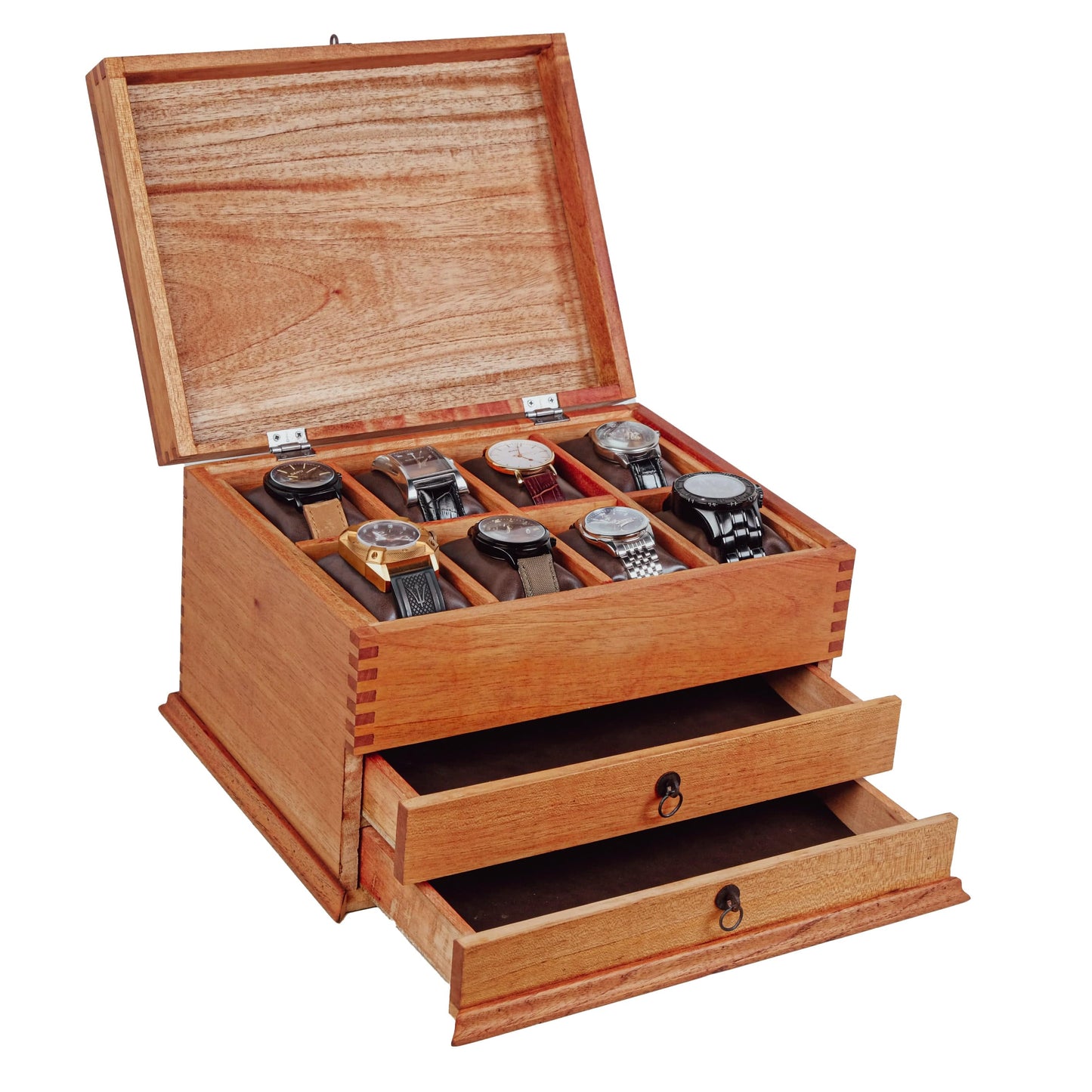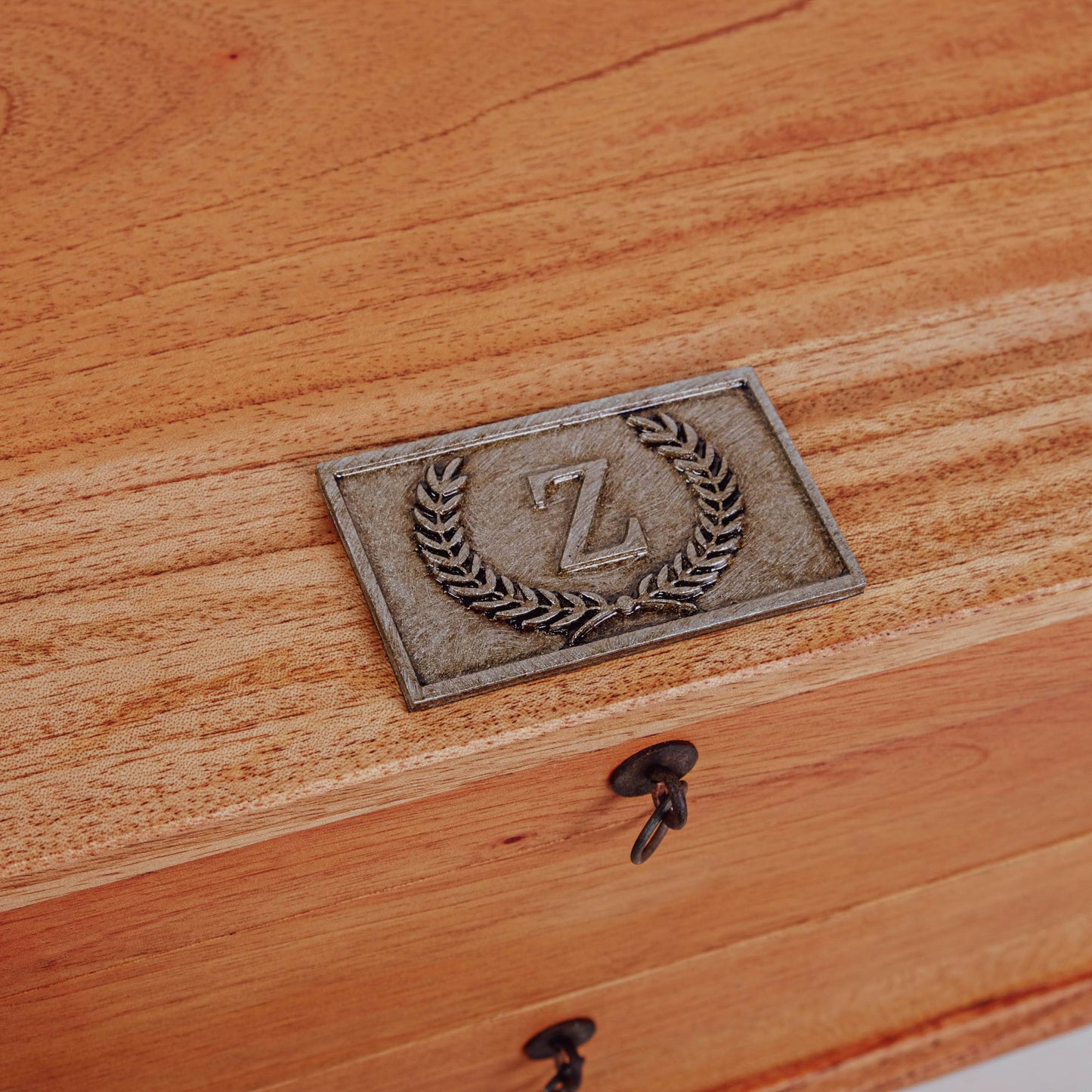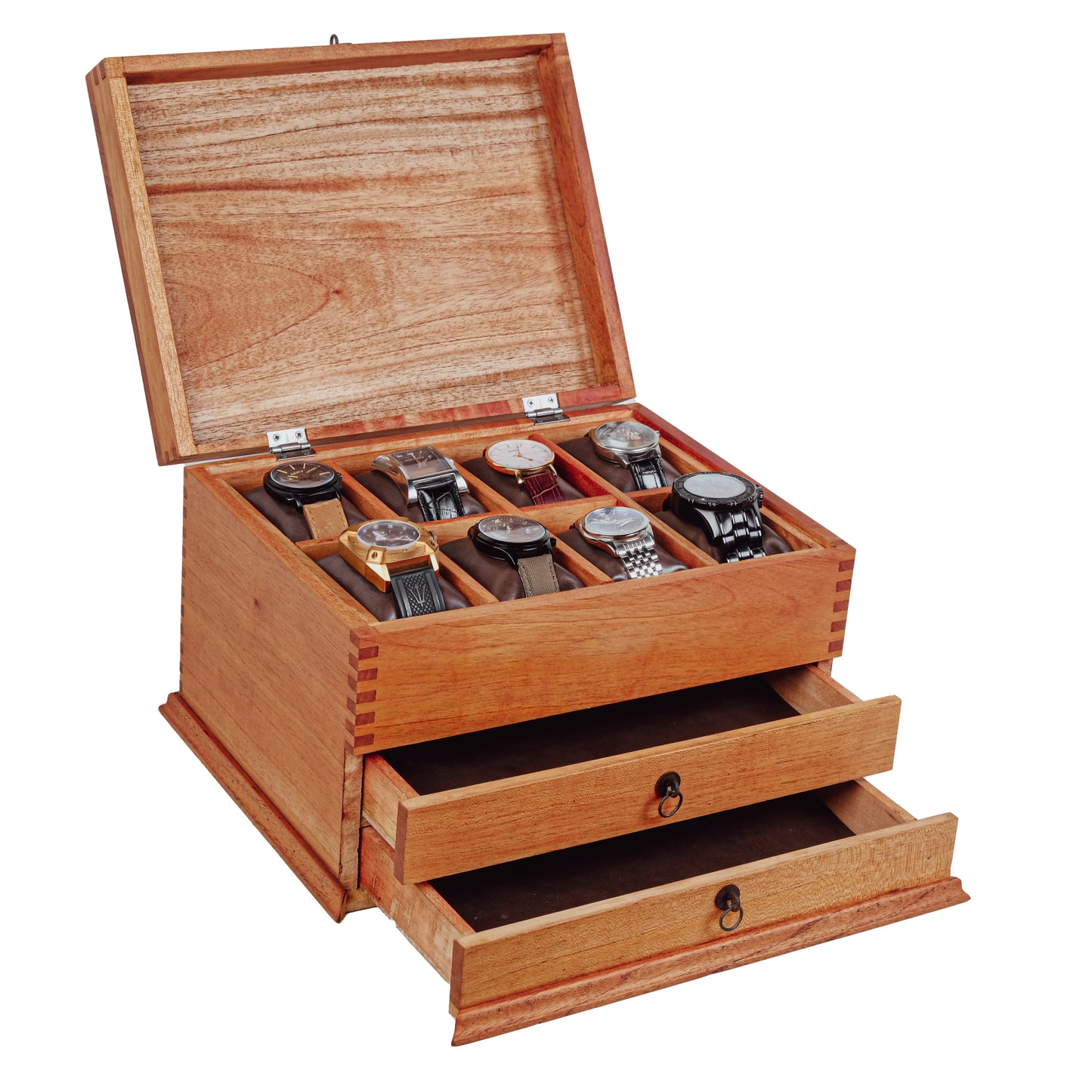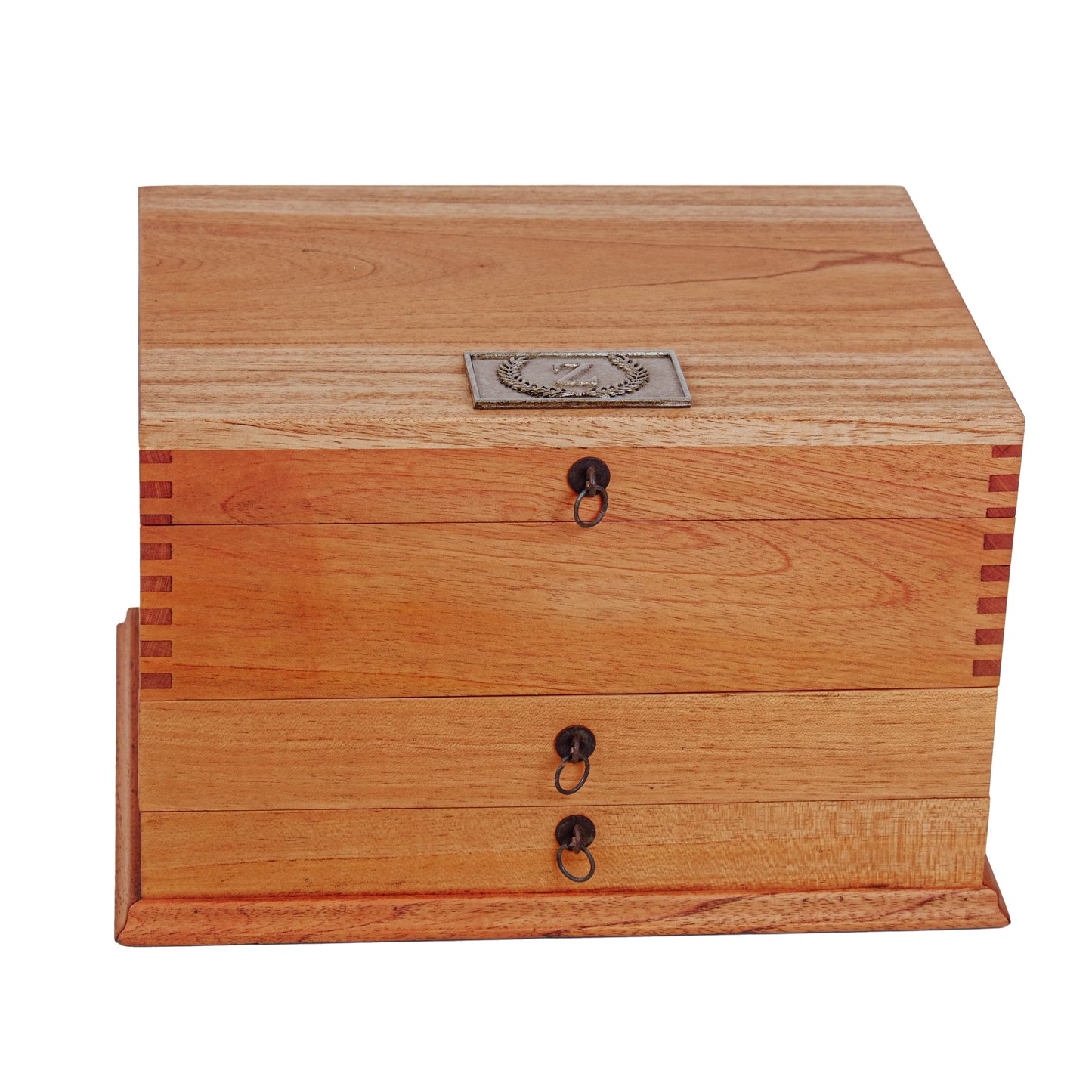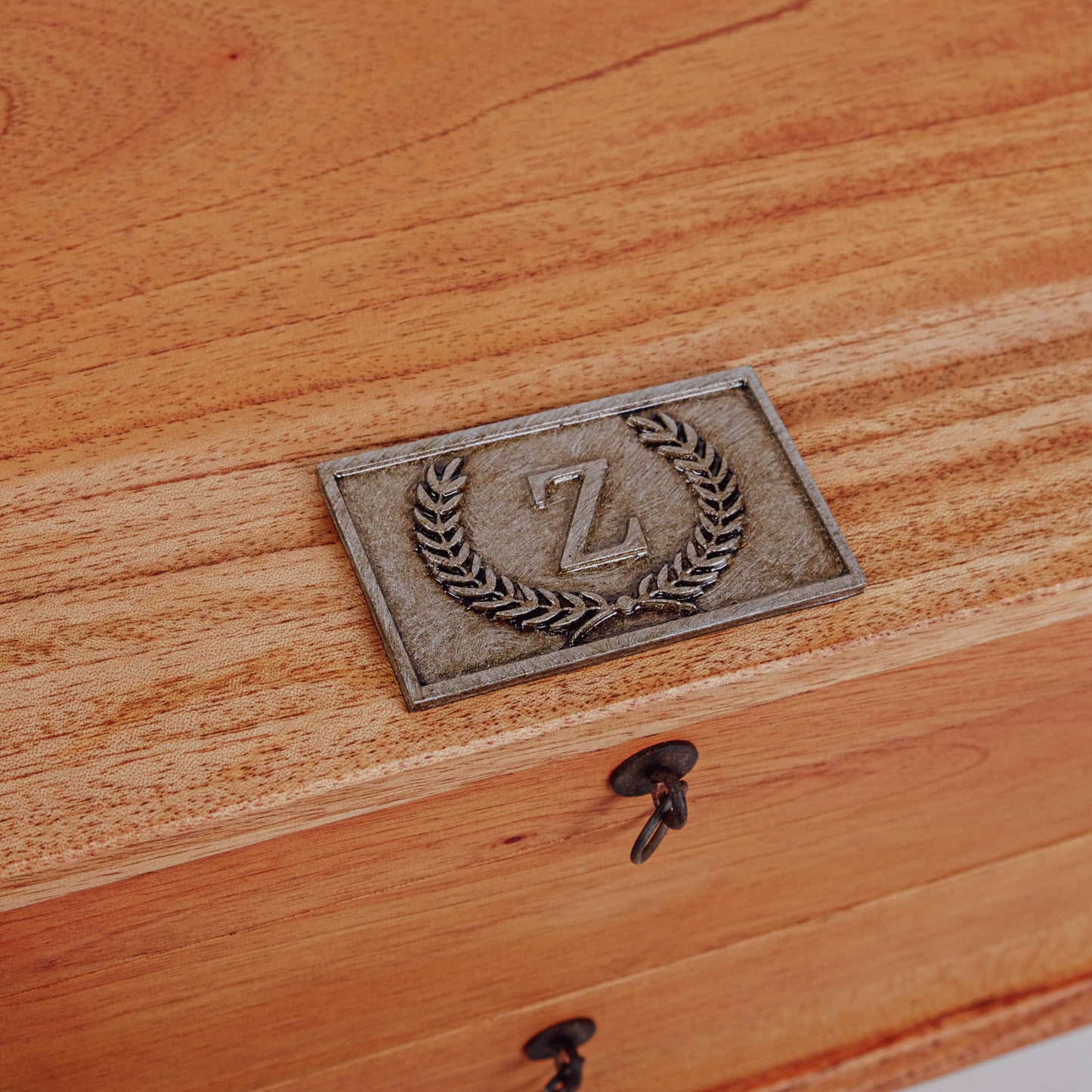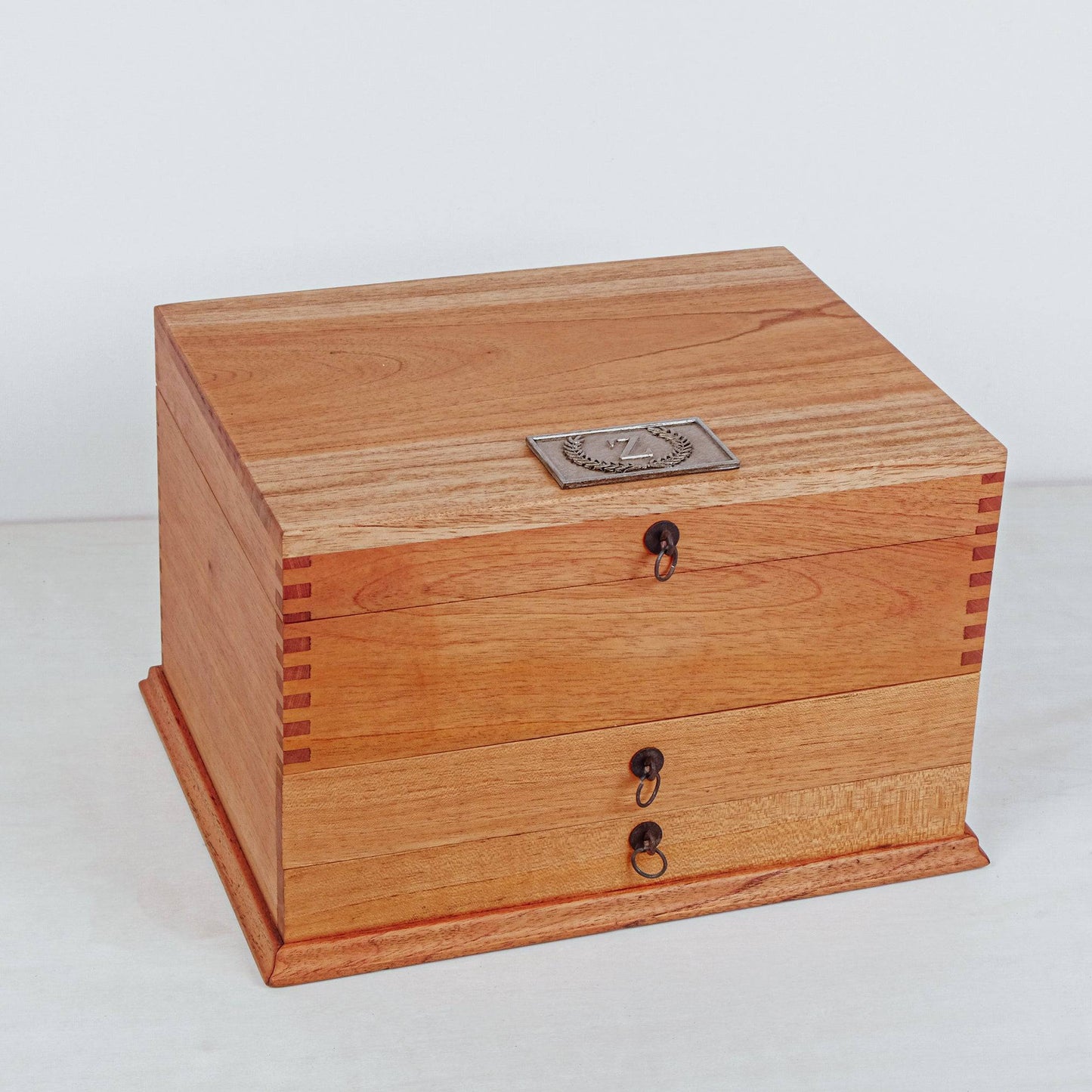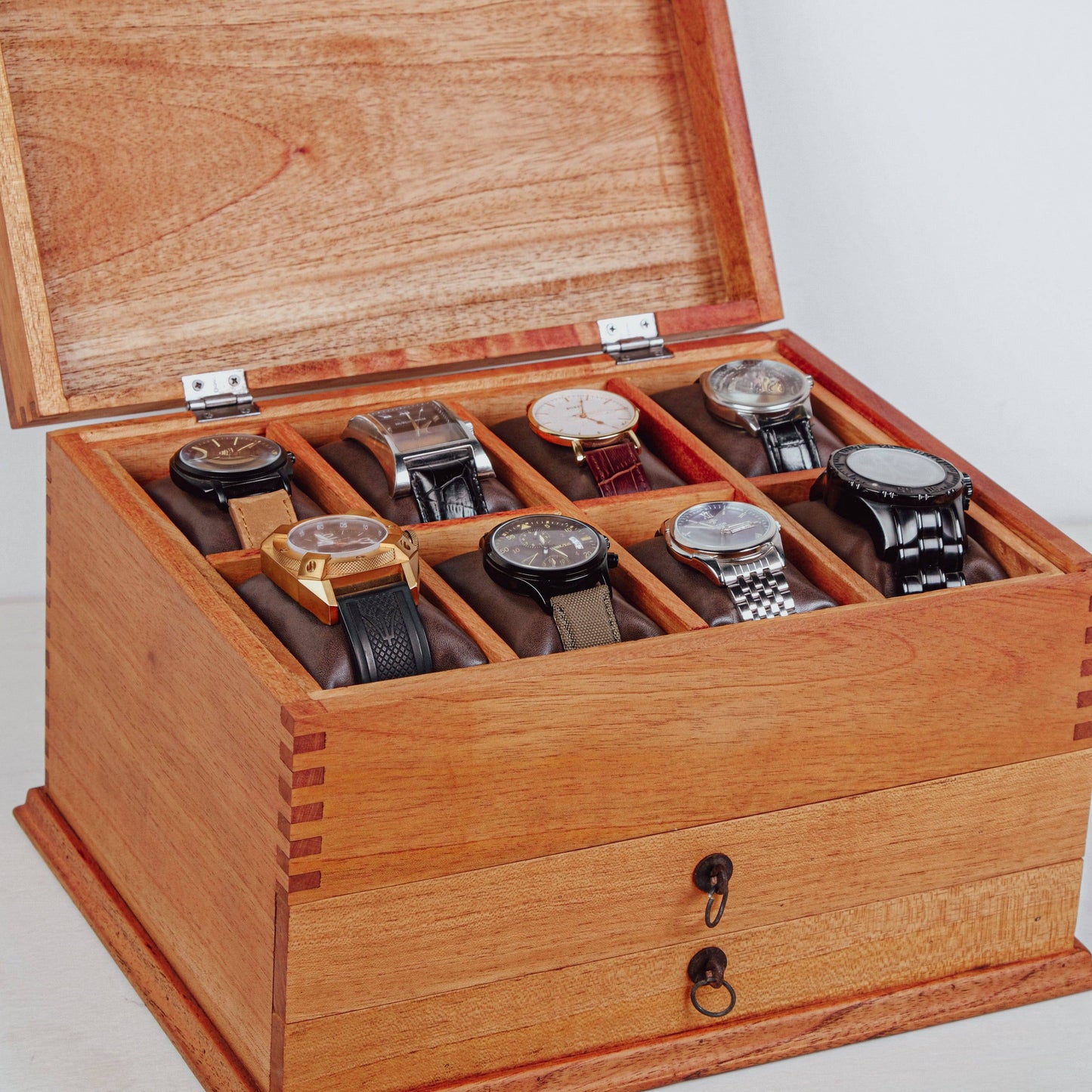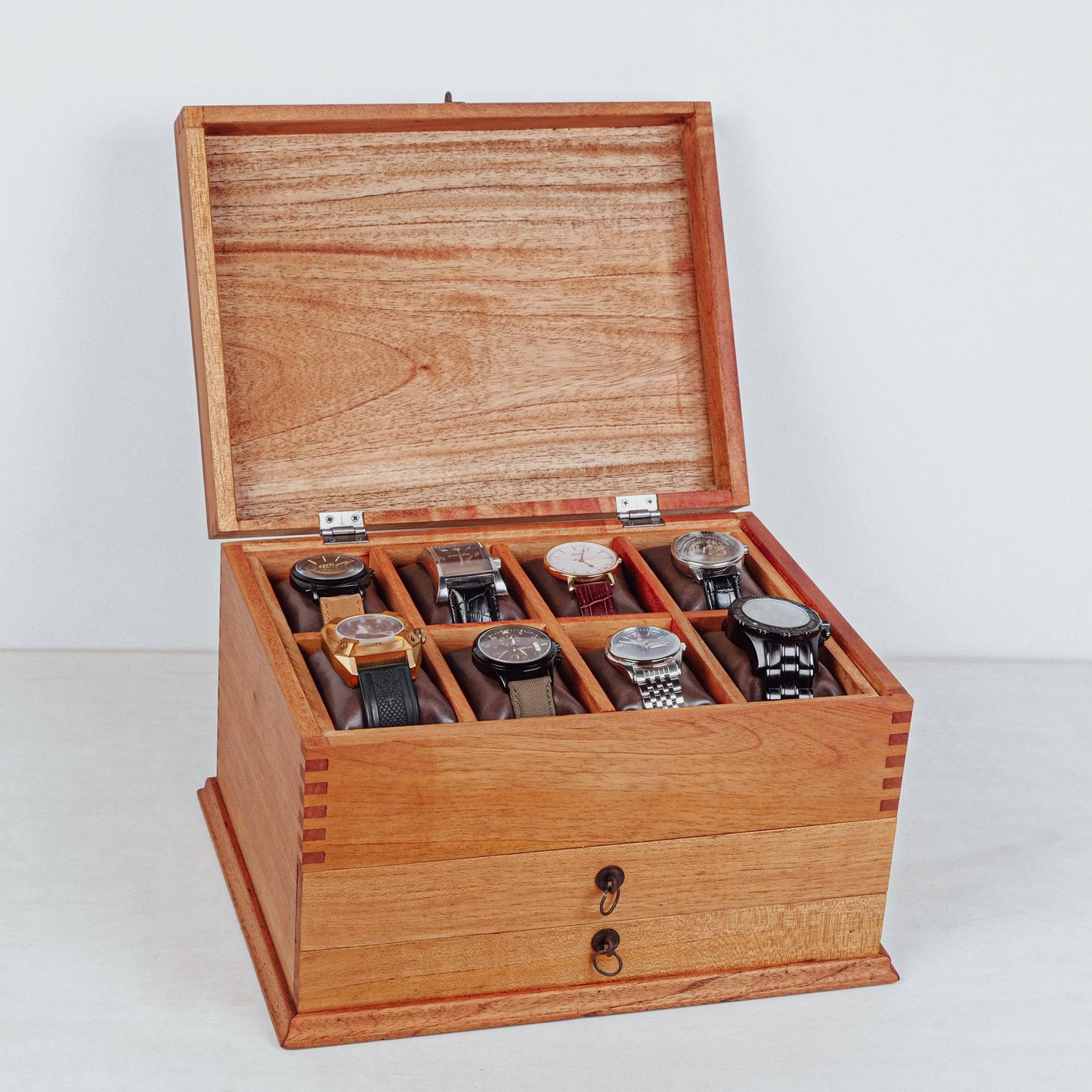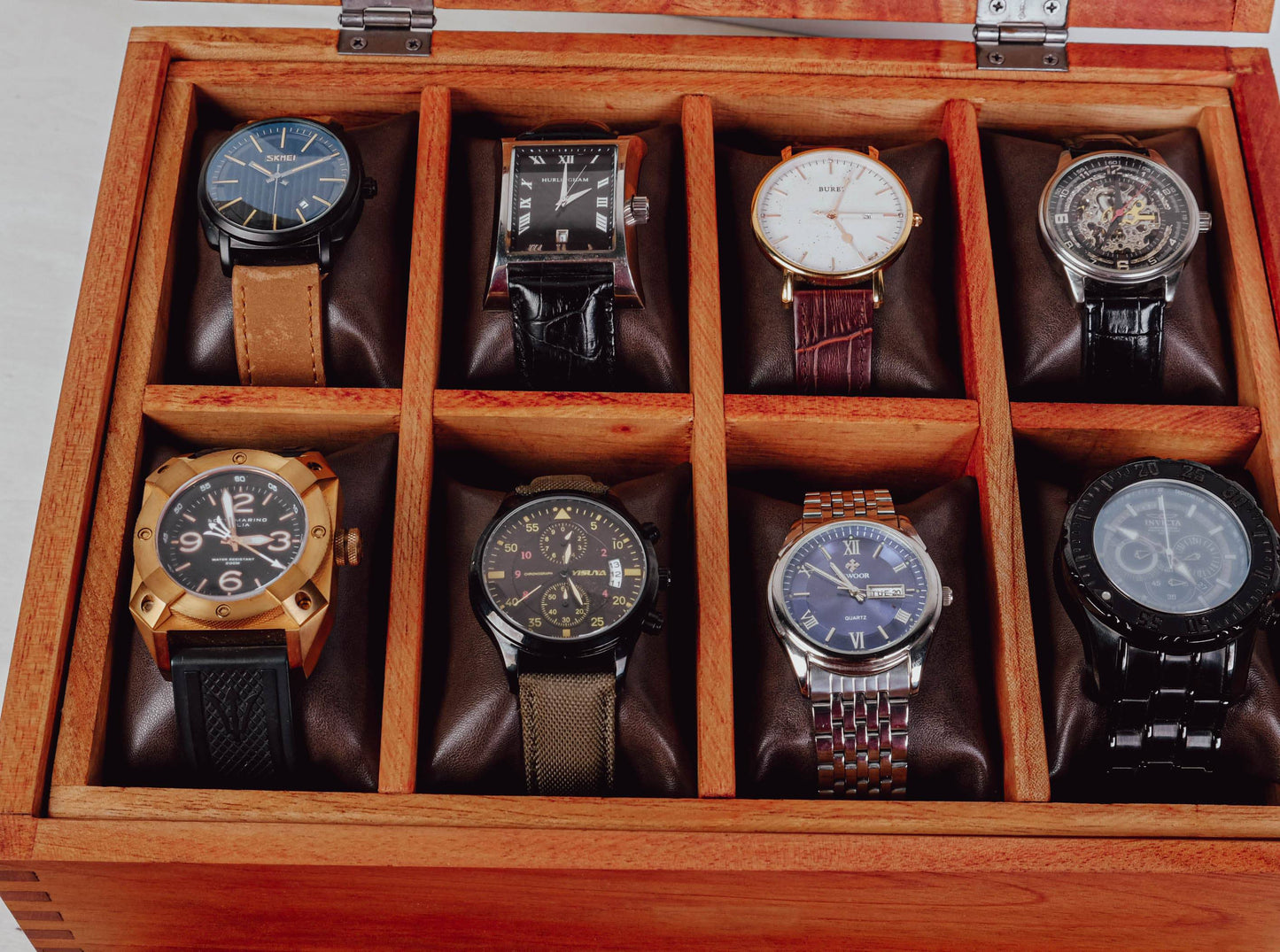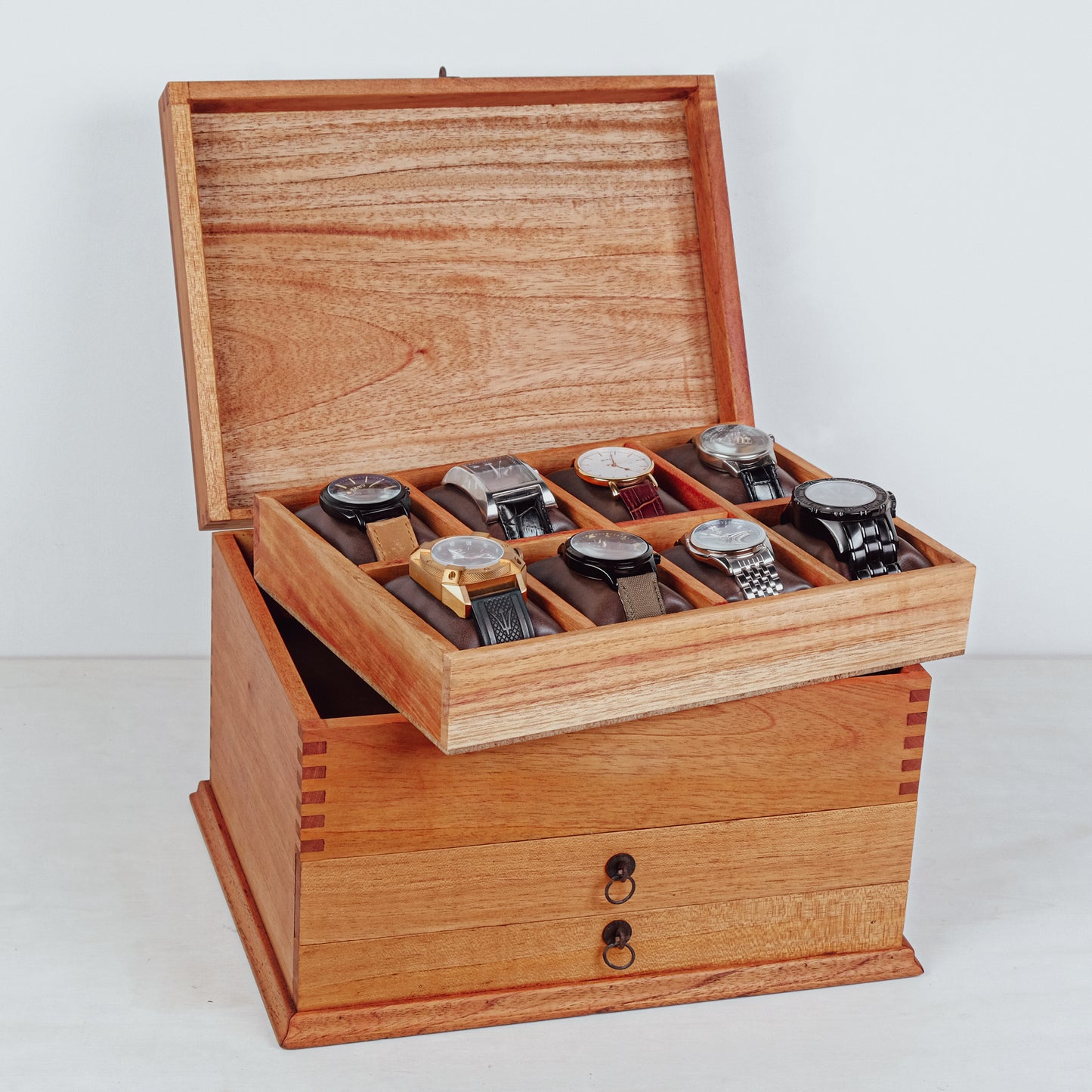 Made per order since 2011
Personalized Monogram

Personalize your Box with a Custom Monogram Plate.

 

You can add a personalized monogram plate. This plate is made specially for you with your own initials or names.

Monogram Finish.

Monogram Catalog
Complementary Glass Engraving

Complementary Glass Engraving Service.

If you prefer to have your initials etched in the glass, we offer this service free of charge
Glass Top or Wood Top

You can choose your favorite style on the product page. If you ask us which is better, there is no correct answer; we suggest going with the first one that caught your attention.

Glass Top
 Wooden Top

High Quality 3mm Crystal Clear Glass

You can have laser-etched glass.

You can see your watches without the need to open the lid

Glass is held with custom trim and could be removed in the future. (Please get in touch with us if you want to remove the glass to give you instructions)

 

Solid Wooden Top made from One Piece.

We can engrave the inside of the lid with laser as well (new option for 2023, please get in touch with us)

It offers a more discrete feel.

The Wooden Top can not be removed.

We can place an extra monogram plate on the inside of the lid.

Coming Soon.

 Inserts for Jewelry Boxes.

 

Choose between a solid wooden lid or a high quality crystal clear 3mm glass.

 

Photo of our modern collection with glass top and wooden top options.
Lining and Watch Pillows

You can choose among Black, Brown and Natural

Each watch pillow is made from the same material as the lining, thick vegan leather.
The pillows are smooth to the touch and easy to clean; they don't accumulate dust; besides, it is effortless to add/remove the watches. The pillows have an overlapped side; if necessary, it is possible to remove part of the filling, to fit your special watch perfectly.
Once the pillows are in the tray, they won't move or shake. We spend extra time on this step, making it a precise fit.
Materials and Process

Cedar Wood is the perfect choice for storing solutions; it's been widely used for humidors, blanket chests, and outdoor furniture because of its natural properties like:

Durability:

 Cedar wood is naturally resistant.

Aromatherapy benefits:

 The scent of cedar wood is unique.

Natural repellent:

 Cedar wood contains natural oils that act as insect repellent.

Moisture control:

 Cedar wood can absorb moisture, which can help prevent mold and mildew growth in damp areas.

Eco-friendly:

 Cedarwood is a renewable resource that can be harvested sustainably, making it an eco-friendly choice for building and other applications.

Our Process.

We make boxes from wide wood boards to avoid gluing up wood strips. These boards are more expensive and difficult to find, but we use them for aesthetic reasons. Our boxes have continuous grain on all the box faces; this creates a better visual effect and a durable product.