Regular price
Sale price
$59.00USD
Unit price
per
Sale
Sold out
The NightStand/Desk Organizer for Men is the perfect addition to any workspace. Crafted with durable solid wood and box joint joinery, this reliable valet tray includes a convenient privacy lid for secure storage. Keep your nighttime or office essentials neatly organized and efficient.
For Left or Right Placement (please select your favorite)
Made with Solid Reclaimed Wood or Solid Cedar Wood
Hard Wax Finish for durability and subtle shine.
Box Joint Joinery for Lifetime Warranty.
Optional Monogram Plate
Size 16"x9"x1.8"
Features

Made of Solid Wood. Our boxes are more like a piece of fine furniture than a box. They are crafted from solid wood, which is far and away the most durable material. Solid wood is unrivaled by man-made materials. A wooden box grows in character over time and withstands wear and tear, making it an excellent investment. Despite heavy use, it can last for generations to come. Bring nature back into your life with an expertly crafted wooden box.

Box Joints. The interlocking design of the box joints is aesthetically pleasing and provides a strong and tight bond in both directions; this ensures that your box will be appreciated for generations to come.

Personalized: There are endless ways to personalize the engraved plate or glass. Add initials, name, monogram, date, or custom message to make the box an even more thoughtful gift. Your gift will indeed be one-of-a-kind for a special occasion like an anniversary, birthday, wedding, housewarming, graduation, or holidays like Christmas, Valentine's Day, Mother's Day, or Father's Day.


Customizable: We can modify the dividers or add unique features.

Unique, no box will be identical. Each piece of wood is slightly different. Even if the boxes are made the same way, with the same type of material, there will be subtle differences. Each piece will be utterly unique to anything else in the world.

Versatility: A wooden box can fit any room aesthetic. Besides, wood grants you a subtle versatility that no other kind of material can. If your box no longer fits your aesthetic, you can easily modify it. A quick sanding will get your wood back to its original state. From there, there are many options of what to do with it to modify its look.

Delivery Information

This Item is handmade per order, it takes between 10 to 15 business days to ship.
Payment Protection

We use Shopify Payments and Paypal to process all orders. Your order is protected.
Warranty

Easy Returns

Free Shipping
View full details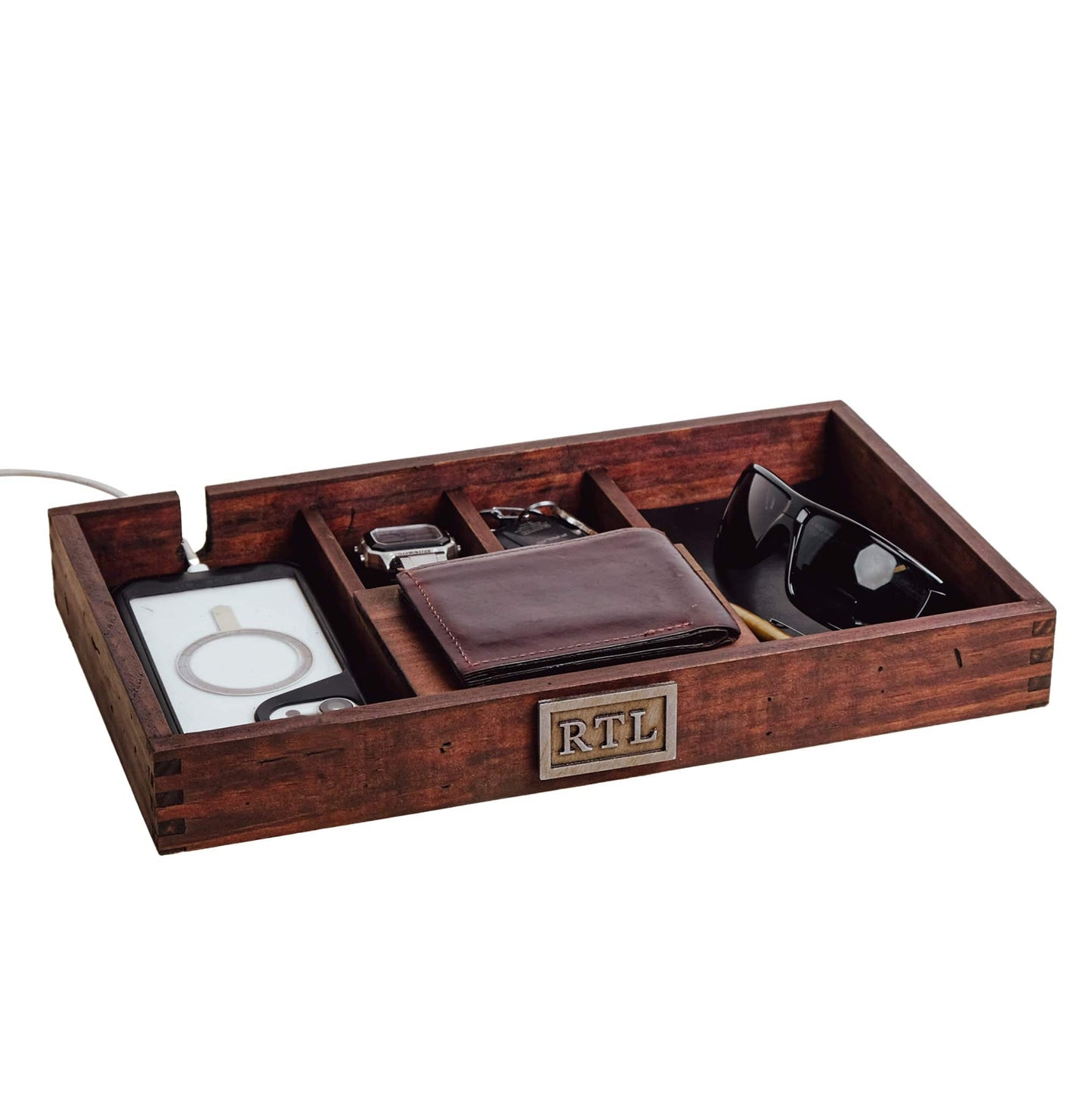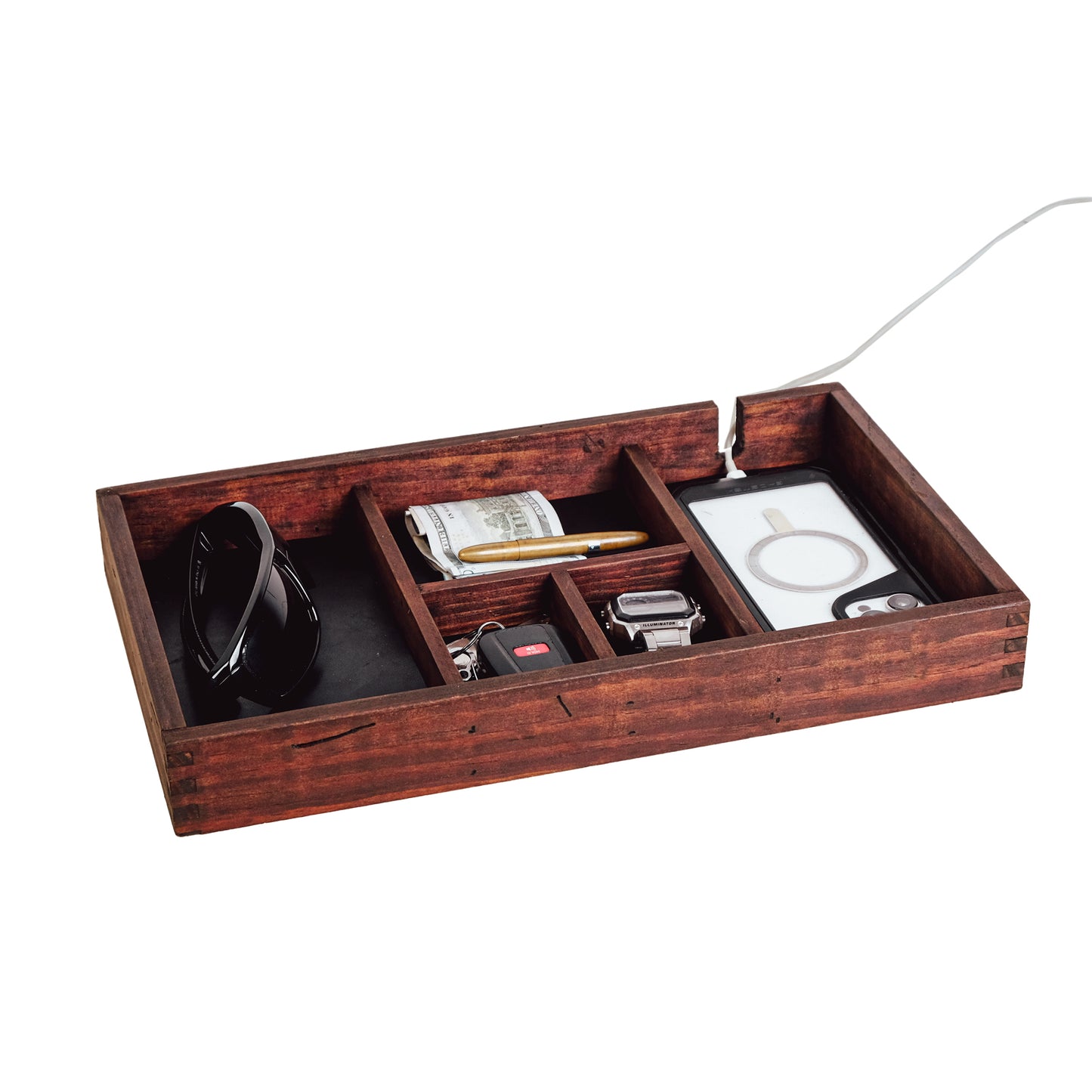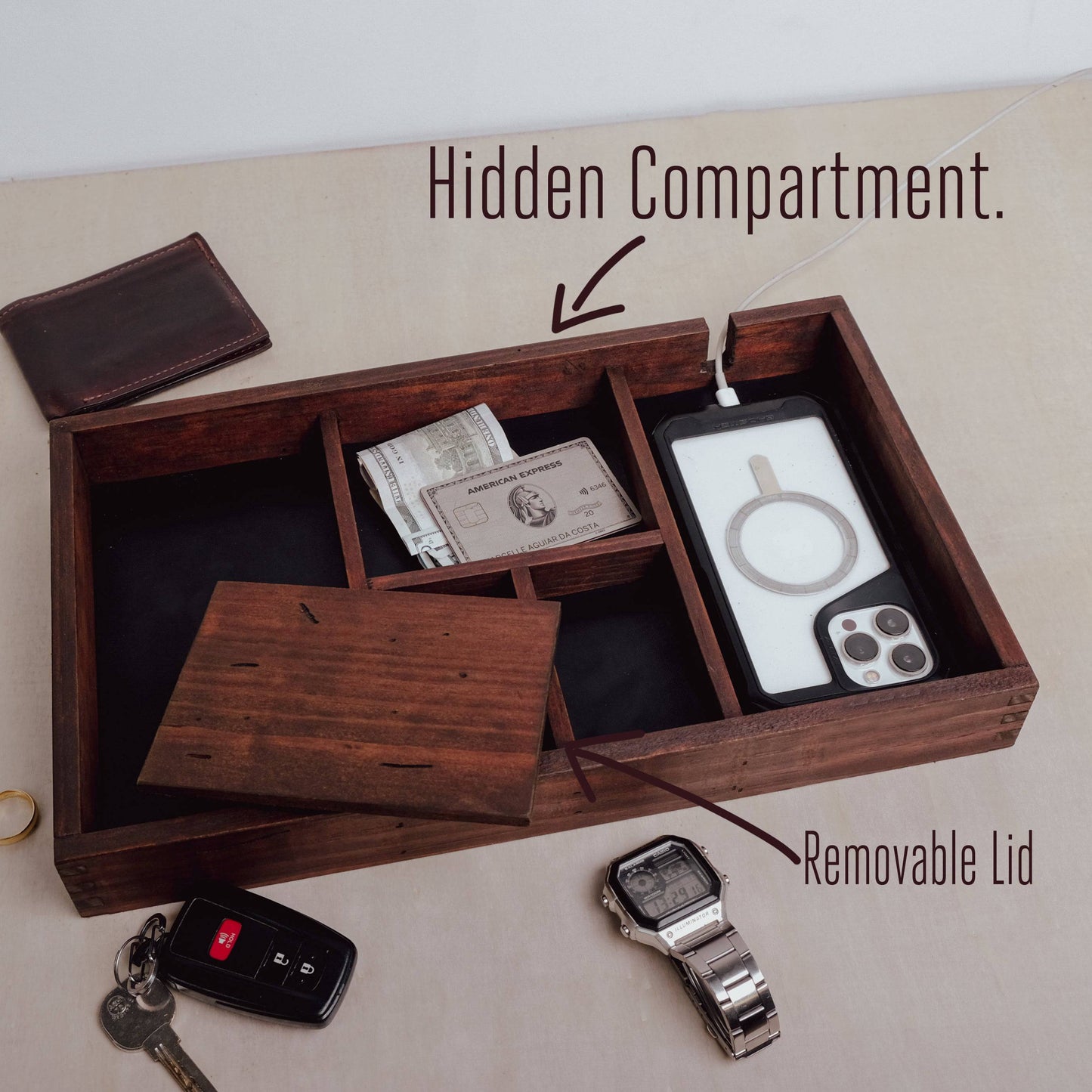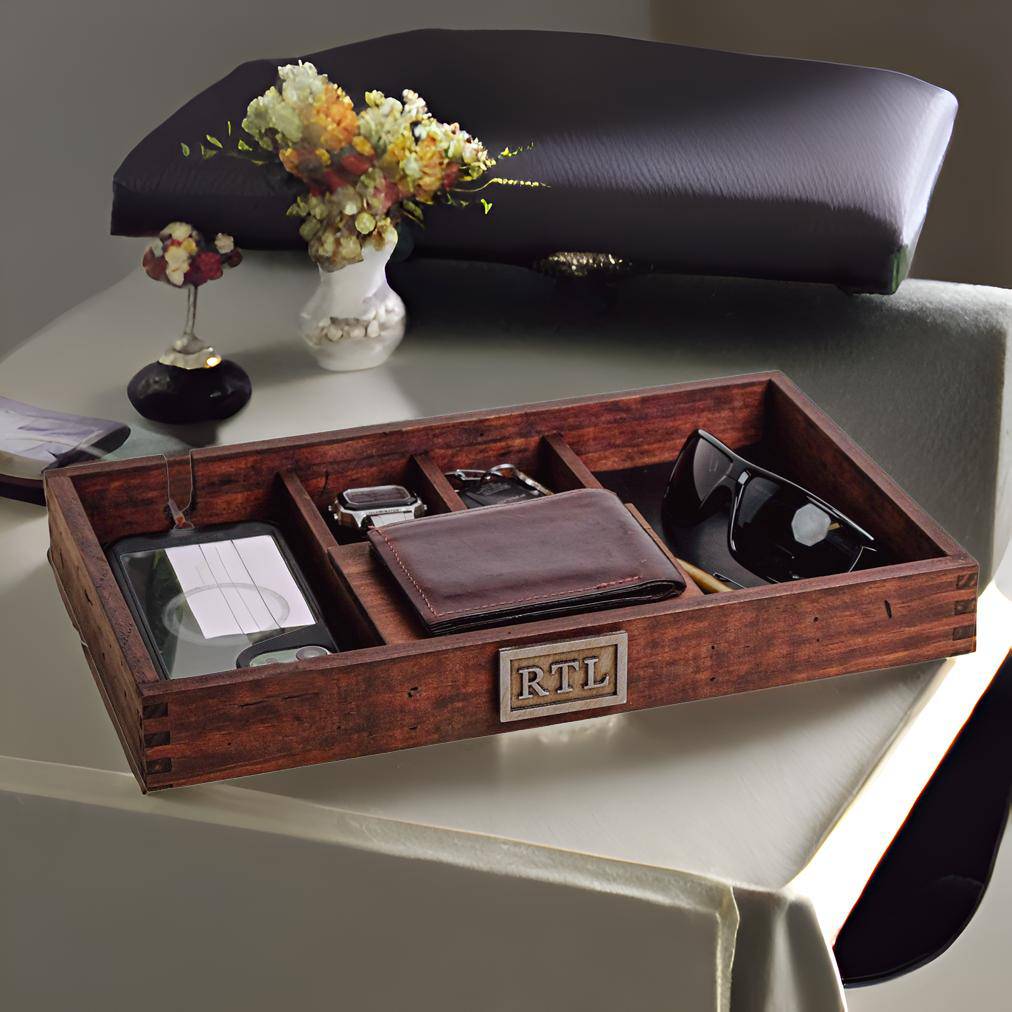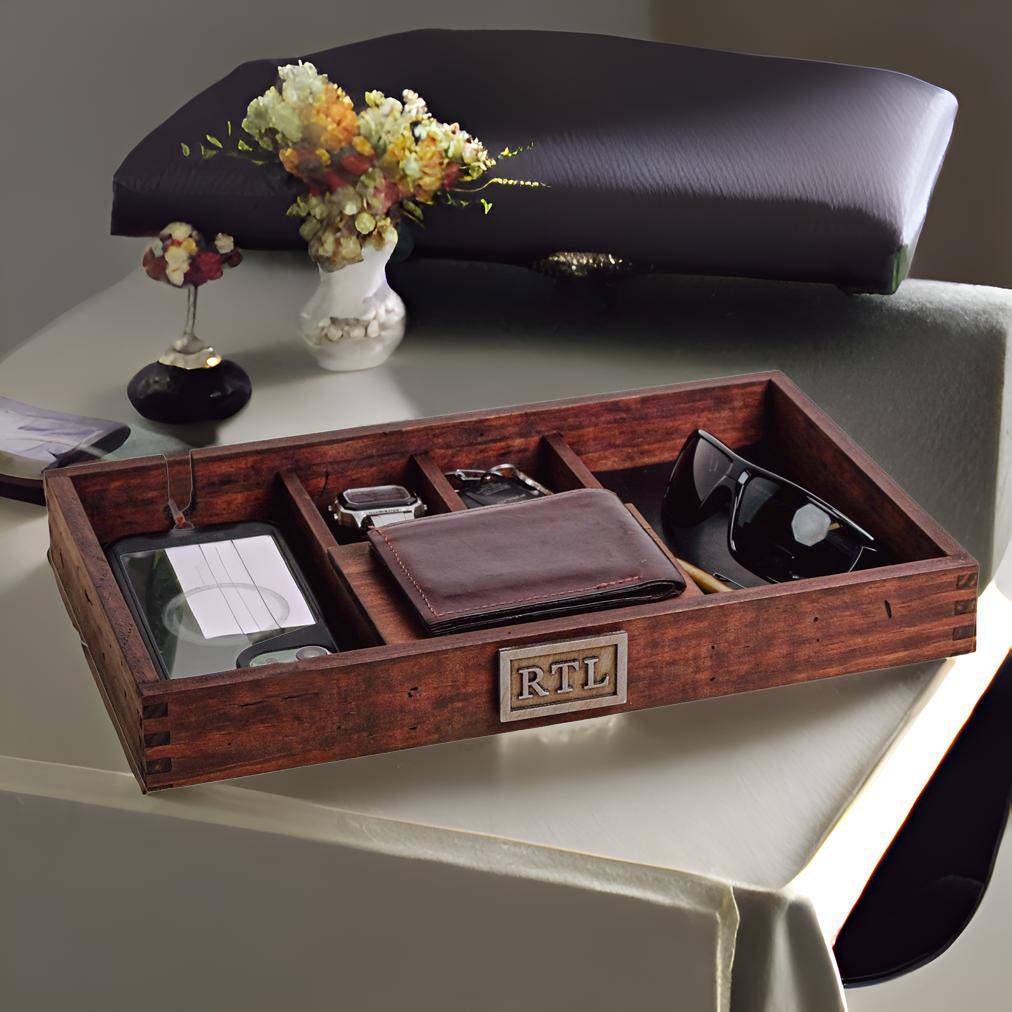 Made per order since 2011
Personalized Monogram

Personalize your Box with a Custom Monogram Plate.

You can add a personalized monogram plate. This plate is made specially for you with your own initials or names.

Monogram Finish.
Materials and Process

What is reclaimed solid wood?

Reclaimed pine wood is wood that has been salvaged from old buildings, factories, barns, old houses or other structures that are no longer in use.  Reclaimed pine wood is particularly desirable because it has already been weathered and aged over time, giving it a unique character and charm that cannot be replicated with new wood.
We give a new life to all this wood that otherwise will be wasted.

A new batch of wood we received -real photo of our workshop

 

Reclaimed Wood is Expensive!

Reclaimed wood is typically more expensive than newly harvested wood due to the additional effort required to source and prepare it for use. Unlike newly harvested wood, reclaimed wood must first be salvaged, sorted, and stripped of any nails or other metal components. This process is time-consuming and labor-intensive, which can drive up the cost of the material. Additionally, reclaimed wood is often more scarce than newly harvested wood, which can further contribute to its higher price.

Our Process

We make boxes from wide wood boards to avoid gluing up wood strips. These boards are more expensive and difficult to find, but we use them for aesthetic reasons. Our boxes have continuous grain on all the box faces; this creates a better visual effect and a durable product.