Mid-Century Watch Box N.3
Available in 3 Solid Woods and 2 Finishes. Scroll Down to see all customization options.
Fits Extra Large Watches

100% Solid Wood

Lifetime Warranty
Personalized Watch Box for 8, 16 or 24 watches. You can choose which drawers have dividers. By default, we ship this box for 16 watches and the top drawer without divisions for storing items like wallets, sunglasses, cellphones, and other small items.
All Bottom Lined with Black Velvet Fabric
Black Velvet Pillows are included but you can upgrade to leather pillows in product options.
Drawer: Fits 16 Watches and dividers are fixed.
Monogram Finish: Your choice of Antique gold, antique silver or antique copper. (antique silver is shown)
Material: Reclaimed Pine Wood
Dimensions: 12" x 9" x 11" 
Available Woods and Finishes

Reclaimed Wood - Dark Walnut Finish

New Wood - Dark Walnut Finish

Reclaimed Wood - Ebonized Finish 

New Wood - Ebonized Finish

Cedar Wood - Natural Wax Finish.
Monogram Finishes
Monogram Catalog
Linings and Pillows
How it's made.

Made of Solid Wood. Our boxes are more like a piece of fine furniture than a box. They are crafted from solid wood, which is far and away the most durable material. Solid wood is unrivaled by man-made materials. A wooden box grows in character over time and withstands wear and tear, making it an excellent investment. Despite heavy use, it can last for generations to come. Bring nature back into your life with an expertly crafted wooden box.

Real Glass. Because our boxes are crafted to last a lifetime and become an heirloom, we use glass instead of acrylic. Glass is more translucent, offers superior durability, does not scratch easily, and has UV resistance, so it won't fade when exposed to bright sunlight.
Box Joints. The interlocking design of the box joints is aesthetically pleasing and provides a strong and tight bond in both directions; this ensures that your box will be appreciated for generations to come.

Personalized: There are endless ways to personalize the engraved plate or glass. Add initials, name, monogram, date, or custom message to make the box an even more thoughtful gift. Your gift will indeed be one-of-a-kind for a special occasion like an anniversary, birthday, wedding, housewarming, graduation, or holidays like Christmas, Valentine's Day, Mother's Day, or Father's Day.

Perfect Fit for Small to Extra Large Watches.

High Clearance on the Lid. Your watches won't hit the glass or wooden lid.

Customizable: We can modify the dividers or add unique features to empty drawers specially for you.

Unique, no box will be identical. Each piece of wood is slightly different. Even if the boxes are made the same way, with the same type of material, there will be subtle differences. Each piece will be utterly unique to anything else in the world.

Versatility: A wooden box can fit any room aesthetic. Besides, wood grants you a subtle versatility that no other kind of material can. If your box no longer fits your aesthetic, you can easily modify it. A quick sanding will get your wood back to its original state. From there, there are many options of what to do with it to modify its look.

Start Customizing ↓
Regular price
Sale price
$239.00USD
Unit price
per
Sale
Sold out
Risk Free Order - We've been in business for over 14 years.

We're always one click or call away. You can reach us via chat, phone, Whatsapp, Instagram and Facebook
View full details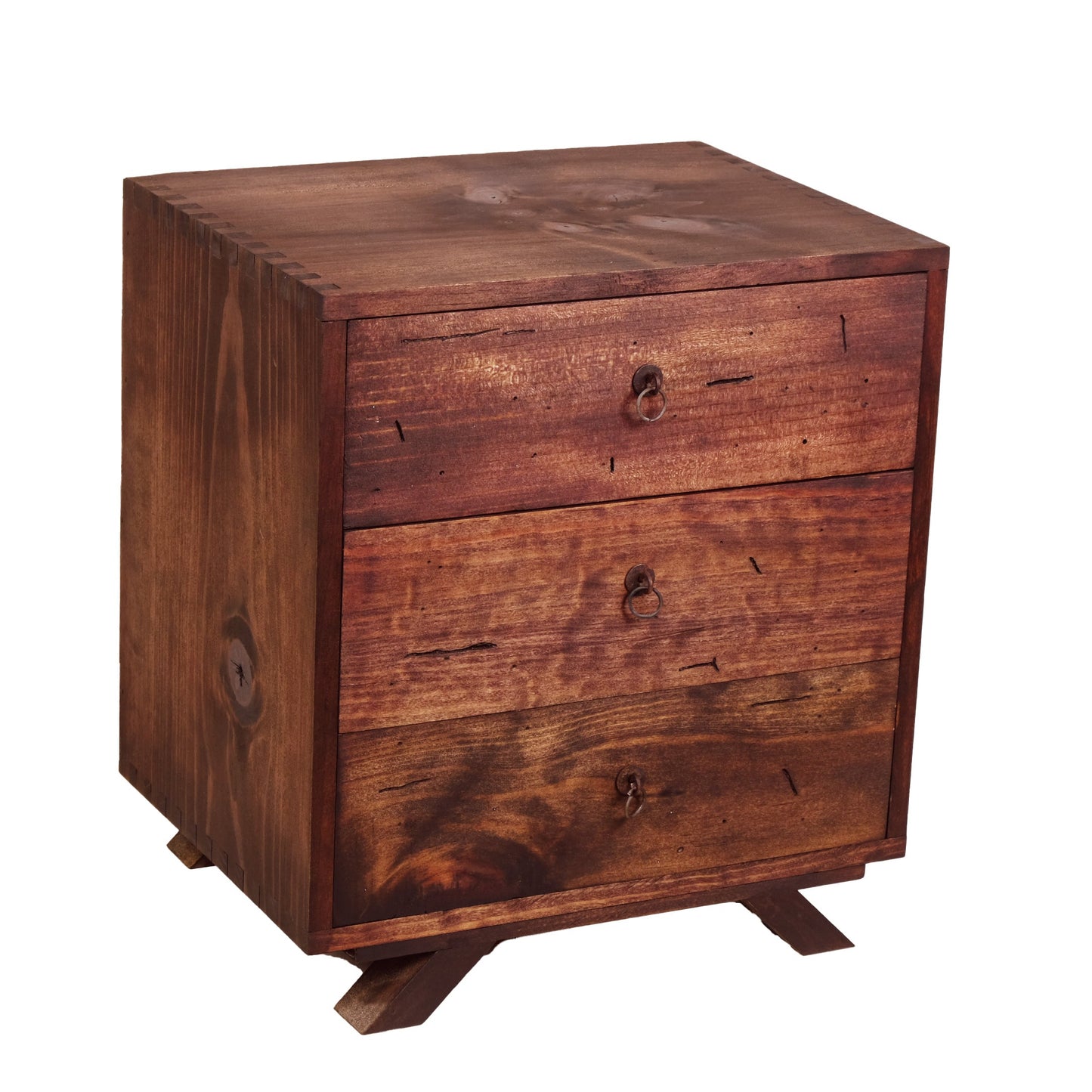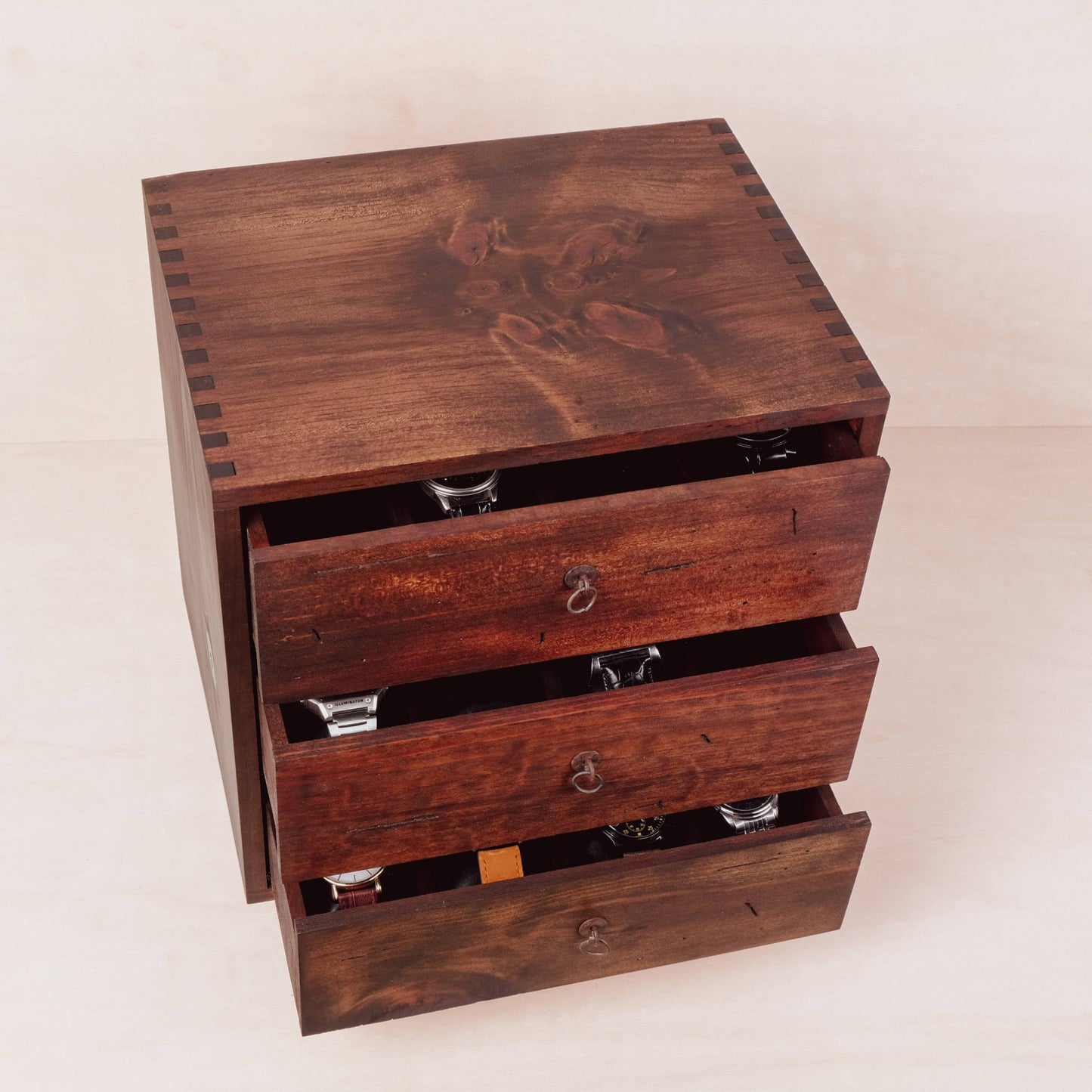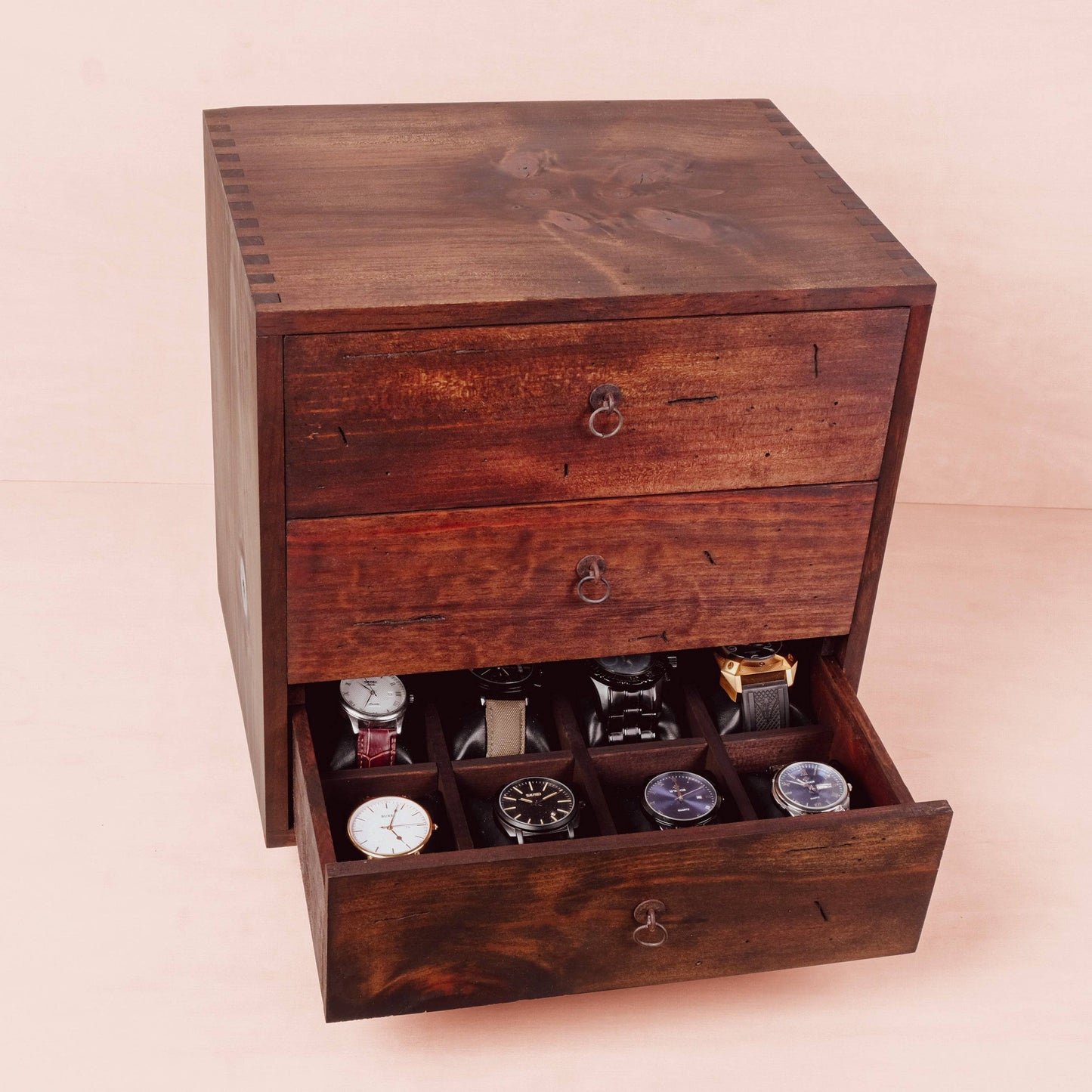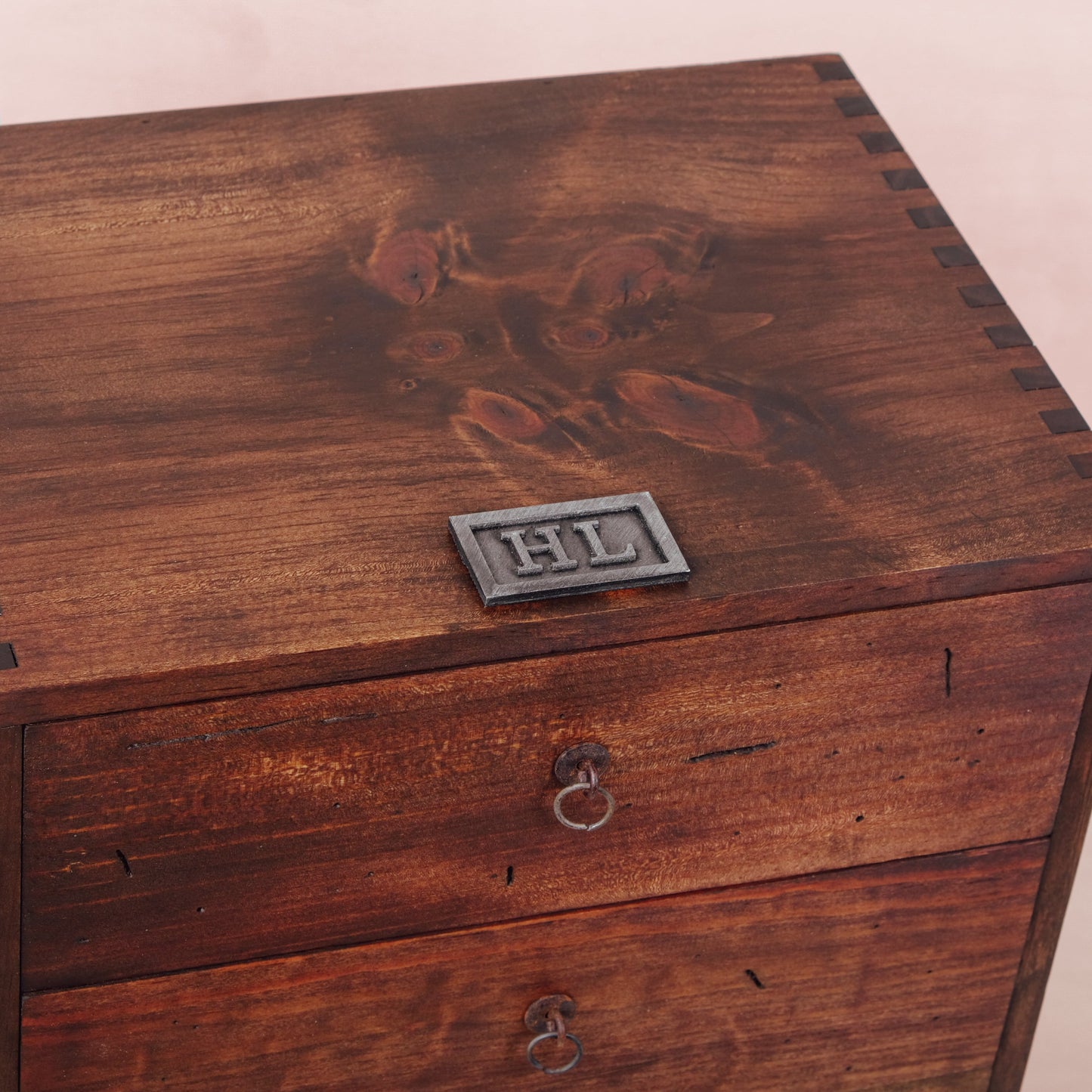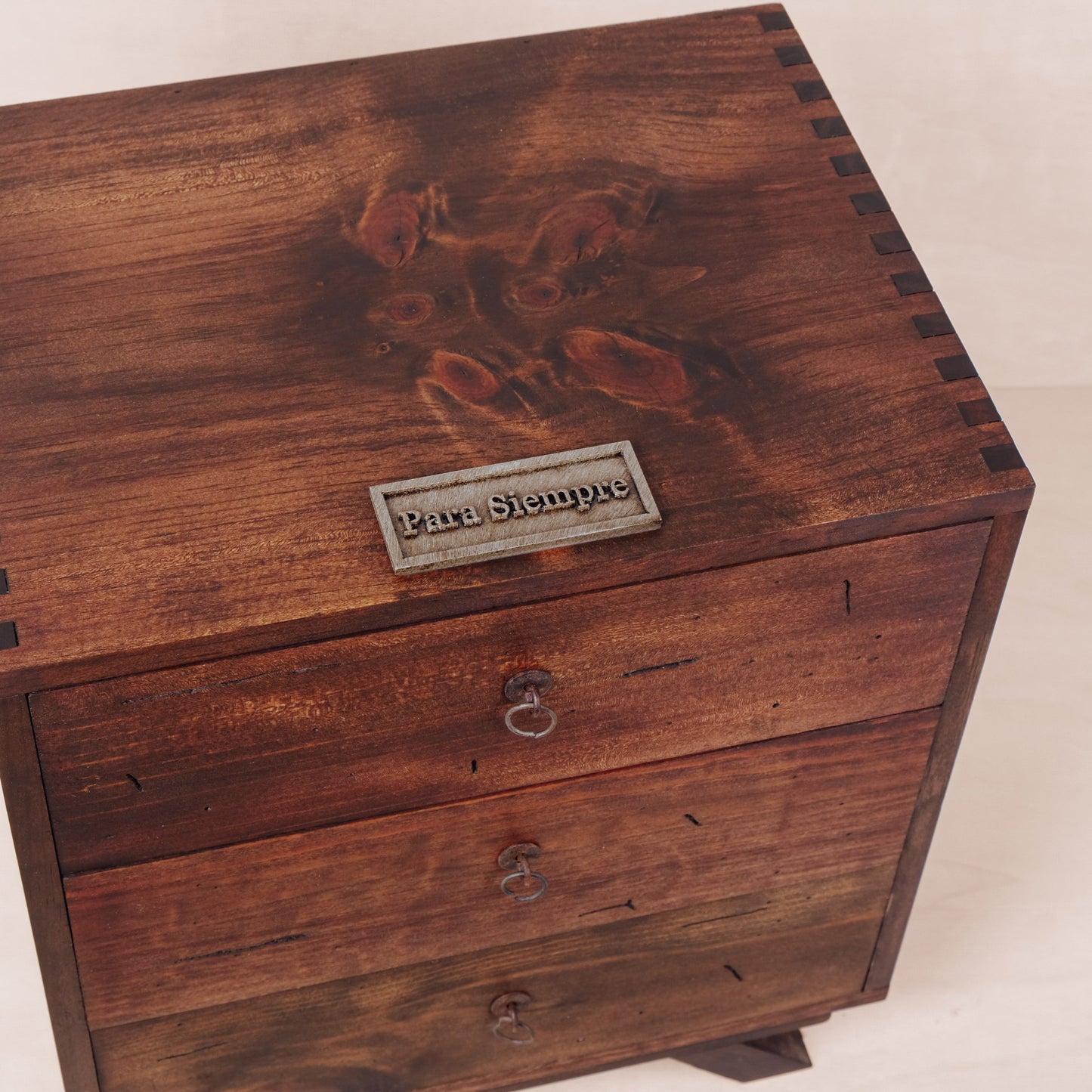 Mid-Century Watch Box N.3
The moment I saw this piece I knew it was for me, no hinges or glass, just a solid compact rustic drawer style watch box. Perfect. The mid century vibe I get from the box is what drew me in. I also like the ability of being able to take a drawer with me to my bench if I want to do some strap changes. It's a quality piece with character, something I'll be proud to pass on with my collection...
Mid-Century Watch Box
Beautiful box - amazing quality & craftsmanship!!! Color and style as advertised. The box holds a lot but doesn't feel oversized or bulky.
Deferichs Mid-Century Watch Box N.3
As an avid watch collector, I was looking to display my collection in a more distinguished way. The quality and fit and finish of their work is impeccable. What a beautiful piece of art! Thanks for the excellent communication and for the hard work it took to put this together. I highly recommend anyone looking for a solid wood display case to not even hesitate, place your order and enjoy it!
Beautiful piece
This is a beautiful case, just what I was looking for. I wanted something that did not have a hinged top because the hinges are typically flimsy and end up breaking. This case has three drawers, each capable of holding eight watches. I went for the leather pillow option for cleanability. Some of my watches squish the pillows a fair amount but I suppose that is to be expected. There are two small items that have noticed that are preventing a five-star review. First, I have noticed an ever so slight variance in the sizes of some of the slots. Second, and more importantly, I think there should be some sort of felt or velvet linings on the bottom of the drawers to prevent any scratching of the clasps. The wood can potentially scrape the metal. Aside from that, it's a real gem and I think I will be ordering another one soon.
Mid Century Watch Box N.3
I have been waiting for years to order a watch box for my husband. I have always loved Deferichs and frequently window-shopped their website. This year, for my husbands 30th, I finally ordered a 16 watch box with a third drawer for his sunglasses collection.
Firstly, I accidentally closed the 10% off dialogue box; so I messaged the company via Facebook messenger. They quickly replied with the discount code which I was able to apply at checkout.
Secondly, the package was returned to the company by USPS due to the remote location it was being shipped to (I live in northern Canada). USPS required additional funds to ship the package. This delay had nothing to do with Deferichs but they graciously paid the additional shipping and re-sent the package (at no additional cost to me). As this was a gift and the delay meant it would not arrive on time they were very apologetic and accommodating.
When I did receive the package it arrived in excellent packaging. Seriously - I have never had anything arrive so well packed!
The quality of the product is even better than I could have imagined. I was hopeful that the box would be well made, but I had my doubts, since I had never actually seen any of the work in person before. The construction is sturdy,the seams are flawless, and the drawers fit and slide smoothly.
We did find that the cushions needed to be inserted in the cubicles sideways (horizontal) to steady the watch when the drawer is opened or closed. If the cushion was vertical (which visually fits better) the watches rock around as the drawer opens. This is just an observation and certainly not a complaint.
Overall I am very pleased with the customer service and quality of product that Deferichs presented. I would purchase again and recommend them to family and friends.